Mussels are probably my favorite reasonably-priced shellfish. My all time favorite is, of course, lobster. But considering lobster is not always readily available here in Louisville, mussels are always the way to go. My mother makes a mean batch of mussels. I have absolutely no idea what she puts in the broth to steam them, but it's a perfect blend of everything enjoyable that someone would want to put in their mouth. That's exactly why I love this dish, it comes VERY close to that flavor.
Ingredients
:
2 lbs mussels
1 leek, white part cut off, and the green part cut into rings
2 cloves garlic, chopped
3/4 cup fresh parsley, chopped
1 tablespoon olive oil
1/2 cup chicken stock
1/4 cup heavy cream
1 cup white wine
1/4 cup fresh Parmesan cheese
1 bag of pasta of your choice (I used No Yolk Egg Noodles)


Clean the mussels and remove their "beards". After spot cleaning, let mussels soak in bowl of cold water for about 15 minutes. Then strain mussels and set aside. This ensures all the sand and grit is removed from the mussels as much as possible.
Set up a pot of water and bring to a boil. Add pasta and cook until about al dente, probably around 5 minutes depending on the type of pasta.
Heat olive oil in wok under medium to high heat and add garlic. Cook until just about light brown. Stir in leek rings and cook until just wilted. Add the mussels, stock, and wine. Cover and let steam until mussels begin to pop open.
With tongs, as mussels start to open, remove them and set aside.
This is where things got interesting. The broth the mussels were steaming in smelled so great that I almost didn't want to eat it. But, instead, I heard the broth screaming at me instead. It begged to be creamed. (Add the cream to the pan now) Or maybe it was the wine I was drinking along with making all of this that made me hallucinate all of this. But either way, it was a match made in heaven. The sauce went from a pale mussel stock, to a creamy mussel cream. Yeah, didn't know how else to describe it. Oh but wait, that wasn't all. I had some fresh Parmesan cheese in the fridge and grated it into the sauce as well. Match made in heaven, or wok at least.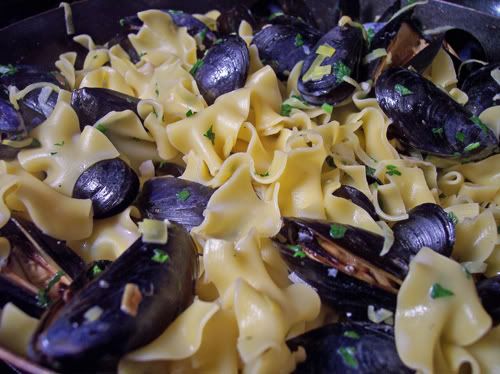 After the sauce thickens just a tad, a
dd the strained pasta and mussels back into the pan. Stir until well combined. Top with fresh chopped parsley and serve! Enjoy!